Kitchen & Bathroom Design Services in Vero Beach, Florida
Without argument, the bathroom and kitchen are your home's most frequented spots. In our opinion, that means it's even more important for these spaces to be so much more than functional: they should hold to your signature style, too. Customized cabinets can dramatically alter the appearance of your space, while freeing up your counter space, too. Are you seeking a unique, yet durable alternative to wallpaper or paint? A tile or vinyl backsplash can protect your walls from moisture and splashes while adding amazing color and texture. Sure, it typically starts with a floor- but we can take your vision a step further at Creative Floors Carpet One Floor & Home in Vero Beach, Florida, where it's always our pleasure to help you make your kitchen or bathroom shine, from the floor to the ceiling.
Kitchen & Bathroom Cabinets
At Creative Floors Carpet One Floor & Home, we're all about discovering the perfect flooring solutions for every situation, but our passion hardly ends there. Your cabinetry is a vital component of a carefully designed kitchen or bathroom. New cabinets can give your space an instant facelift while expanding storage potential and freeing up your counter spaces. We offer up a wide range of cabinet options and related services, from basic budget-conscious options to high-end customized installations. Whether you need a simple update or a full-on overhaul, our expert designers will work closely with you to bring your vision to reality.
Types of Cabinets
Cabinetry is a universal need for all spaces, of all sizes. Cabinets are manufactured in a multitude of styles, finishes, and dimensions. There are cabinets designed to meet all your most pressing storage needs, in styles ranging from casual to formal, traditional to contemporary.
Stock cabinets are a budget-friendly option for those wishing to keep it simple with an instantaneous update. Manufactured in common sizes, stock cabinets are available in a limited variety of standard styles, colors, and finishes.
Your Local Experts
Our team of expert interior design specialists can help accommodate every cabinetry need, with emphasis on completing each project with minimal disruptions – because we understand that life just doesn't wait. You can always count on us to walk you through the entire process, starting with a professional design consultation. Our onsite cabinet installation team boasts all the skills, tools, and latest product knowledge needed to assure ongoing satisfaction. We can even refer you to one of our trusted partner businesses if you wish to further your home improvements by adding new countertops.
Cabinet Installations
Your kitchen and bathroom cabinets have many important roles to play, which makes it even more critical to ensure perfect beginnings. Expanding your storage potential, clearing your countertops of clutter, and giving your home's busiest spaces a completely new look, your cabinets will become part of your bathroom or kitchen for many years to come, for better or for worse. For all these reasons and many more, a proper installation is a critical step in ensuring a long, beautiful lifespan for your new cabinetry.
Our Cabinetry Installation Services
With our onsite cabinet experts, interior design specialists, and resident installation team, we have all the skills, tools, and knowledge to bring forth your emerging cabinet vision. Our ongoing goal: is to treat every home as if it were our very own and complete every project with as little disruption as possible. We specialize in installing cabinets made by many of the industry's finest brands, including StarMark, Homecrest Cabinets, Schrock, and Decora Cabinets.
Kitchen & Bathroom Flooring
Your kitchen and bathroom are places you spent a great deal of each day in, and that calls for flooring that's fit for life's daily challenges, with water and moisture at the top of that list. Fortunately for all of us, the list of moisture-resistant and waterproof flooring continues to grow, as more and more innovative technologies are introduced. Rest assured, there are now durable, stylish hard-surface floors fit for every bathroom and kitchen, regardless of your style, tastes, and functional needs. From luxury vinyl to tile, to lovely laminates, we have everything you need to bring your vision to reality while working closely to suit your budget and functional needs.
Waterproof Flooring for Kitchens
When it comes to kitchen and bathroom flooring, it's important to choose your products carefully. Opting for waterproof flooring, such as waterproof luxury vinyl plank and tile, or ceramic and porcelain tile, is always a smart decision where these spaces are concerned. Your new waterproof hard-surface floor will create a barrier between life and your subfloor. Waterproof flooring prevents moisture and wetness from seeping beneath your flooring and instead forces spills and splashes to remain on the surface, where you can wipe the moisture away and get on with life.
Kitchen & Bathroom Tile
Create your dream kitchen or bathroom space with custom tiling by Creative Floors Carpet One. With a huge inventory of quality tile and highly skilled tile installation specialists, we are your local tile store. Our selection includes all the latest trends and styles, along with timeless classics. Whether you love the elegant appearance of extra-large tiles, or you want an intricate mosaic tile backsplash, we have options for every budget and style. We have in-house kitchen and bath design specialists who can help you develop a kitchen and bathroom design layout and concepts, and we'll provide you with a comprehensive estimate.
Bathroom and Kitchen Tile Flooring
We offer waterproof, durable floor tiles in a variety of styles. From natural stone looks to timeless, white porcelain floor tiles, there are many different designs to choose from. A beautiful kitchen or bathroom design truly begins with the floor, which establishes the foundation of your space. Oversized, large tiles are especially trendy right now, and they reduce the number of tile lines that need to be cleaned and maintained. We also have wood look kitchen and bathroom tiles for a beautiful hardwood appearance, along with plenty of other tile styles that will complete your room.
Backsplash and Wall Tiles
We can help you install tiling on all your vertical spaces in your kitchens and bathrooms. Backsplash tiles and wall tiles keep your walls protected from splashes, humidity, and stains. They can also create intricate focal points and beautiful color schemes. We offer custom backsplashes and installation services. From white subway tiles to blue-grey herringbone tiles and unique mosaics, you can develop a beautiful backsplash idea that is all your own.
Custom Tile Showers and Bath Surrounds
Live in luxury with a spa-like custom tiled shower or bath surround. No matter what type of installation you want to achieve, we can help you develop a unique design. Our selection includes a variety of tiling, whether you want a modern and minimalist aesthetic or a coastal and clean look. A few of the tile brands you'll find in our showroom are Daltile, Happy Floors, Unique Building Solutions, and our exclusive Carpet One collection Bel Terra.
Planning Your Kitchen & Bath Redesign
Are you thinking of giving your kitchen or bathroom a much-needed boost? Our onsite kitchen and bathroom experts are always here to help. Stop by our expansive retail center, which is located at 1137 Old Dixie Highway in Vero Beach, FL today, or give us a call at (772)-258-4111. We can even schedule a visit to your home for a FREE onsite project consultation.
See some of our recent Kitchen Design Projects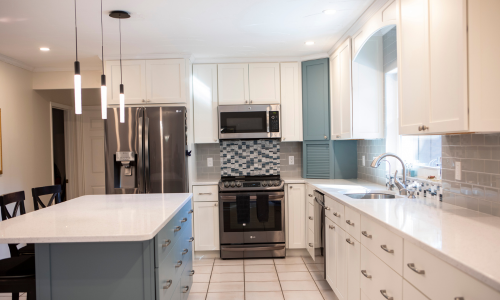 Learn More About Kitchen and Bathroom Flooring
Interior Design Services

Our interior design team can help your dreams come to life.

Waterproof Flooring

For family and pet-friendly flooring check

out our waterproof flooring options.